Our Graduate Training Programme is the foundation to our staff professional development programme.
Each year we take on graduates from the UK's leading universities, who have either studied finance or have a strong mathematical and analytical ability. Each individual is expected to complete the programme within a four year time period, have passed the Advanced Diploma in Financial Planning at the Chartered Insurance Institute and be extremely well versed in provider offerings as well as areas such as investment, pensions, taxation, trusts and protection.
We are careful, when employing people, to determine as best we can whether the role a prospective candidate thinks he or she will ultimately take on is likely to be suitable; however, a great deal can change in four years and candidates may well decide to pursue an alternative direction. We have requirement to fill a number of roles each year and the skills learned and qualifications secured during the four year course will prove invaluable regardless of the eventual post one assumes, whether that be as an adviser, working within the Investment Team, working as a technician or research consultant or within compliance.
Our recruitment process is extremely thorough and the following should be expected: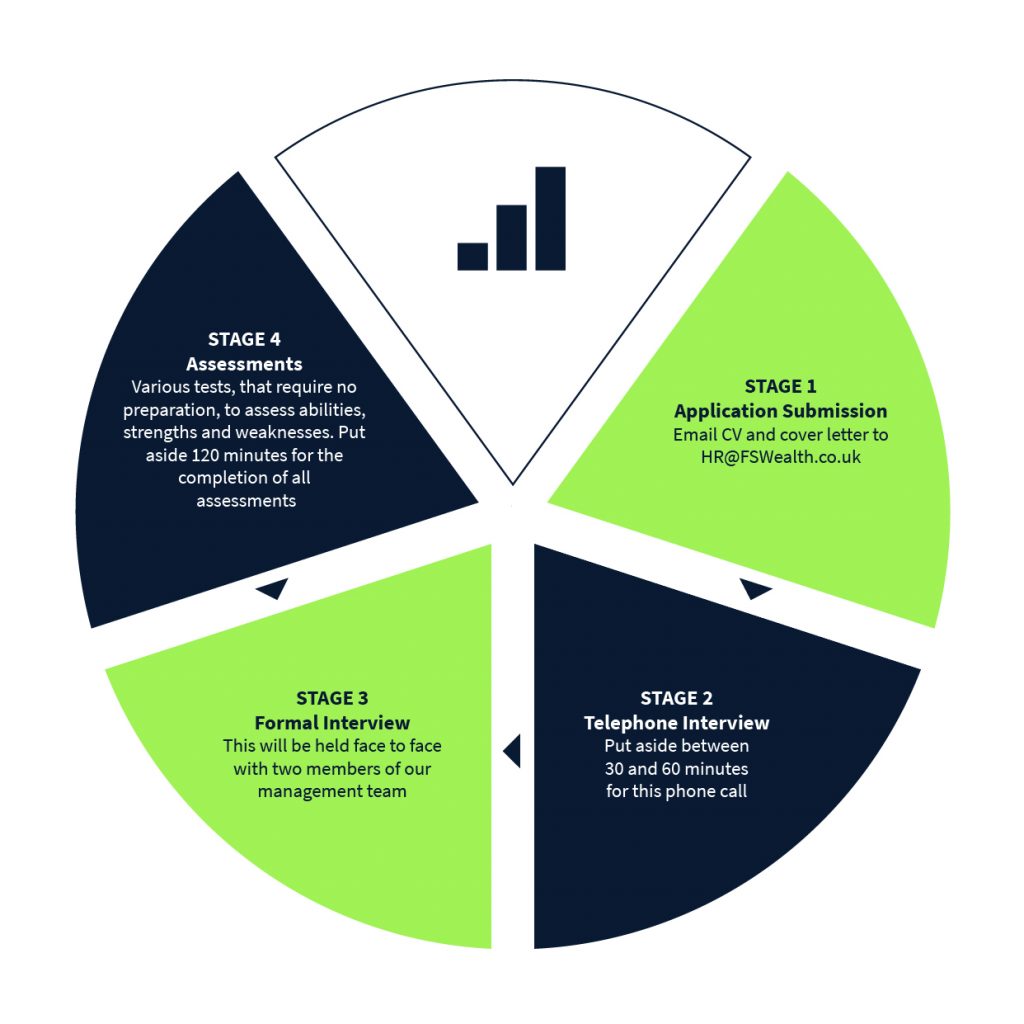 We believe we are a force for good within the financial services sector but, as ever, the best endorsement is from those who were on the course:
"I was keen to ensure I joined a firm which offered a structured, supported and assured progression path. The rate at which I have acquired knowledge, the exposure to all manner of financial situations and the solid support I have been given whilst on the Graduate Training Programme, has been second to none. I have thoroughly enjoyed it, albeit at times it has been extremely challenging and very much look forward to completing my training as part of the Technical and Research team."  Max Dunmore, Technical and Research team
"I joined the company in August 2019 after graduating with a 2:1 in Economics and I have been working within the Administration Team assisting them with gathering information from providers, checking policy details, familiarising myself with provider offerings, packaging reports and providing illustrations. You learn to multi-task in this extremely busy department whilst at the same time always having to check accuracy. I am on track to move to the Technical and Research Department in August 2021 and would be looking to start my Advanced Diploma exams with the Chartered Insurance Institute at that point."  Billal Popal, Administration team